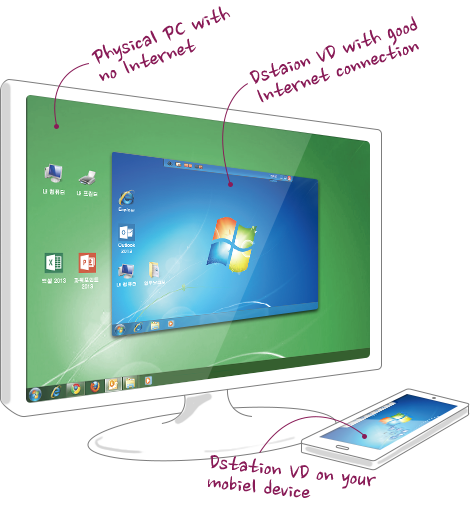 Another computer inside my computer!

Dstation is a Virtual Desktop Infrastructure (VDI) solution in which Dstation manager can easily create and distribute virtual desktops to multiple users who can access them through Internet. It is Korea's first CC certified product in server based virtualization field.
One of the best part about Dstation is how free you can be. From home, work, or at any distant place, you can sill access Dstation and continue your work. Not only this, but also apply our product for security through network isolation and smart work aspects.
With "Network Isolation via Virtualization'' technology, disconnected Internet on your physical computer prevents hacking, viruses, and likewise risks to secure you files at source. Meanwhile, your virtual PC is used for using Internet and share foreign files.
Contrarily, you can have your physical computer to be connected to Internet while having your virtual computer be disconnected with 'Network Isolation via Virtualization'.
Even if you lose or break your computer or mobile devices, your data and works done in the virtual desktop are all saved in the server Dstation is built on.
Dstation supports ITU-T DaaS international standard.


Total management solution that integrated professional VDI solution maker's knowhow

CenterPost is a web service portal to comprehensively manage, operate, and monitor virtual desktops, network, and servers.
Users no longer need to seek PC managers. Instead, access CenterPost and request your needs from additional storage space or application to boost your business pace.

Managers, too, no longer need to find user PCs to install softwares or exchange the PCs. With CenterPost, they can approve users' requests and manage storage spaces with a few clicks. Managers can effectively monitor virtual environment, and manage policy, employees, and settings through the simple UI.

Together with Dstation, Tilon's VDI solution, you can enjoy the best complementary effect